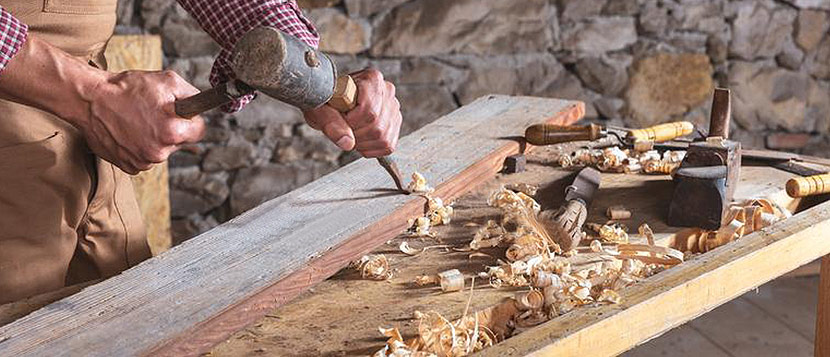 My grandfather was a carpenter/farmer.  He had run his thumbs through the jointer so many times that his thumbnails were the shape of sharpened pencils.
My love for woodworking began early in my life.  Woodshop was a favorite class in junior high and high school, and throughout the years since then, I have made a multitude of projects.
Mr. Boreman was my junior high school woodshop teacher, and with his help, I built a colonial hutch table out of two-inch Mahogany.  It was the largest project in his thirty-five-year history as a woodshop teacher.  The top rotated on dowels to turn it into a bench seat and the seat was a lid to a storage compartment below.  Each screw was countersunk and plugged with a mahogany core that I made sure the grain of the plug matched the wood.  I spent extra hours at lunch time and after school to complete it before Mothers-day that year.  And yes, I put a bow on it!
As woodworking became a huge part of my life, it is of no surprise to me that making picture frames was something that would fit right in.  When I shop for wood to make the picture frames, it almost has to speak to me.  I usually don't get the nice straight grain, but rather wood with swirls, color changes, and so on.  In other words, they are the pieces that are left behind in the pile that I choose.
There is something therapeutic in working with wood and it is such a pleasure to be able to bring out the beauty from within.  I try to imagine what projects the savior made out of wood.
Just as I have tried to bring out the natural beauty of the wood, I try today to make teeth look as natural or better than the original.  I can also make them look straight and perfect.
https://netzley.com/wp-content/uploads/2021/11/woodworking.jpg
357
830
DrNetzleyDDS
http://netzley.com/wp-content/uploads/2019/08/LOGO2.png
DrNetzleyDDS
2021-11-29 20:43:28
2021-11-29 20:49:40
Woodworking